The Tradition of Brewing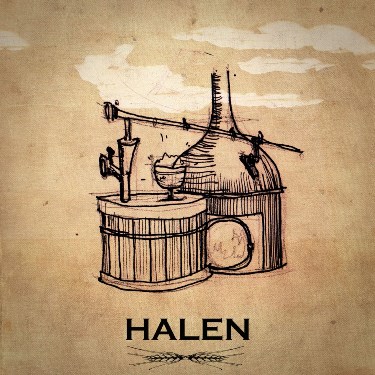 The Belgian city of Halen has been in existence for over 1000 years. Halen is strategically located where the rivers Herk and Gete get together with the river Velpe into the river Demer. 1000 years ago the settlement was a small freight transfer depot where cargo from larger ships sailing up the Demer from cities like Diest, Aarschot and Leuven got transferred into smaller vessels that could sail the shallow rivers upstream. In the middle ages the growing cities defences were reinforced by heavy iron sandstone outer walls and a moat was constructed around the city for safety. Before the French occupation the city was part of the Hageland area which was part of the Hertogdom Brabant. The transfer of goods were the cities largest economic activity, the central transfer and trade building was called the Lakenhal and it was located in the city square right across the church which was build around 1100.
Somewhat insulated by open space to the south of Halen the small settlement called Rotem was formed around the Mariënrode Abbey which was relying on the large Mariënrode farm for food and beer production ingredients. About 1000 ft from the Abbey was the Rotemse molen ( mill of Rotem) build in 1646 , a water driven grain mill, where malt and flour was produced for the abbey and surrounding area. The Cisterciënzerinnen abbey was originally founded in 1237 in Wolversput , but moved to the shore of the river Velpe in 1243. This was done so the Abbey would have enough fresh water for its breweries all year round, and this is when the tradition of Brewing Mariënrode beer started. Mariënrode abbey was ruled by the same mother superior as the abbey of "our lady of Val Dieu" the Abbey of Val dieu is currently still producing traditional abbey beer . The Mariënrode abbey was one of approximately 2500 that were formed in the region during the 12th century.
Most of the abbeys initially did very well, and were becoming famous and loved for their skills to brew what would become world famous abbey beers. During the French revolution in 1792-1815, the Mariënrode abbey main building was totally destroyed. In the beginning of the 20th century the Cordonnier family acquired the Mariënrode farm building and farm land.
In the damp cellars of the farmhouse a young boy finds remnants of the old beer brewery which started his interest in traditional brewing. Now years later he actually realized his dream of recreating the original Mariënrode beers based on the traditional recipies and ingredients created by the Cistercian sisters that came to Halen 900 years ago. Most of the ingredients are still locally grown. Beyond the traditional products the breweries managements passion is to also use the traditional Belgian brewing methods to create new modern beers tailored to the traditional beer lovers tasted but with a modern twist.